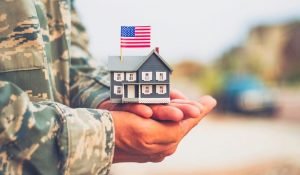 Did you know that with a VA IRRRL loan you can refinance your mortgage with no need to verify income or bank accounts? We only require a phone call to your employer to show you are gainfully employed at your current job.
There is no need for a property appraisal which will save hundreds of dollars. This alleviates the worry of a potentially lower market value or an inspection as to the condition of the property. This loan is the easiest most streamlined mortgage on the market. You can save hundreds of dollars each month, resulting in tens of thousands over the life of the loan. With rates starting as low as 2.25% (APR of 2.539%), we offer Veterans the lowest payments available to them. We have partnered with a large wholesale lender to offer these to you.
Rates will never be this low again, so take this opportunity and call us at (610) 837-1600 and speak with one of our loan officers. We salute and are ready to serve you.